Our Hotel-Apartment building is situated on a quiet one way street in the middle of Santa Catalina, about 100m from the Market and 200m from the harbour. Completely renovated for the purpose, it occupies an old, traditional Santa Catalina house which was once built and owned by an ironmonger and his family. In fact, many of the original wrought-ironwork has been maintained or upcycled to give the hotel some character and keep its ties with the past. The current owners and proprietors are a family team of architects and interior designers who have lived in Mallorca for over 40 years.
All bedrooms face the back of the building to ensure a good night's rest. All apartments have a private exterior space, be it the patio with its fountain, a terrace or a porch overlooking the back gardens of our Santa Catalina neighbours.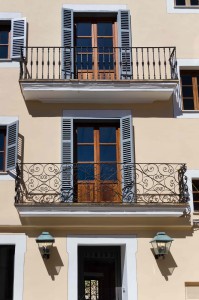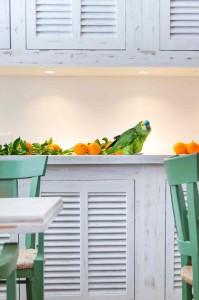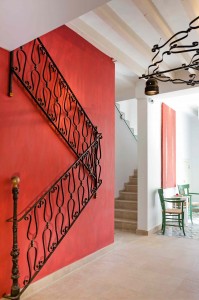 Our Reception is open 24hrs a day. All rooms feature free iPhones to maintain contact with our guests wherever they are. The privacy and tranquillity of our guests is one of our maxims; so we aim to never enter the apartments without your knowledge. The time at which the cleaning of your room takes place will be arranged in advance so our guests know when to expect this service.
All apartments and common areas are air-conditioned in Summer or heated by radiators in the Winter. Bedrooms are appropriately insulated against noise. There is lift access to all front doors, and modern, proximity based card opening systems. Our amenities are aloe-vera based with organic extracts. Bath robes, extra towels and pillows of varying hardness are all made available.
Breakfast baskets are available to enjoy in our dining area or can be delivered to your apartment at a time of your choosing. Our bike room is at your disposal to store your rental bikes or you can just use our own. The laundry room is available for guests in the smaller apartments which are without a washing machine.
As a privately run independent hotel, you can expect a warm, friendly and personal service unhindered by corporate guidelines. If you have any further inquiries or specific requests please let us know and we will do what we can to satisfy them.